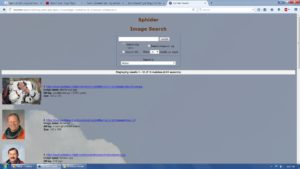 Work has progressed to the testing phase of both Sphider 1.6 and the OPTIONAL* Sphider Image Indexer. This is a screenshot of the results of an image search during testing. To get these results, the PHP installation needs to have the imagick module installed. The search will still work without it, but the thumbnail previews will be absent. The rest of the results will remain. Search is in the choice of image name, image url or alt tag contents. Search can be for all indexed sites or be site specific.
Release date of mid-July.
---
* – Sphider 1.6 will work normally without the Sphider Image Indexer and will automatically detect when it has been installed. Image indexing is integrated into Sphider.